We undertake house clearance in all areas of Manchester: Wigan Bolton Bury Rochdale Oldham Salford Tameside Trafford.
A Full List Of Our Manchester House Clearing Services
House clearances can be potentially stressful & troublesome if you use cowboy companies – Please look at our many House Clearance Recommendations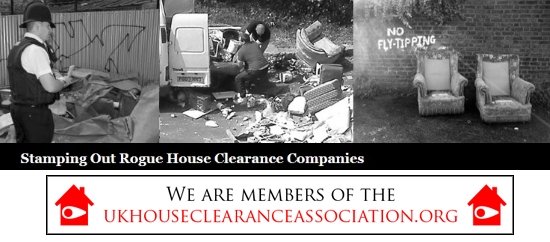 House Clearance In Dudley Case Example: Client instructions
Our client in this case was a property development firm located in the Sale area. They had owned a 1930's three-storey block of six flats for a year, with plans to start a complete refurbishment. Just before work was due to start, the block was squatted. The development firm's solicitors had succeeded in clearing the building but it had been left in some disarray. Walls had been spray-painted with graffiti, old pieces of furniture had been left behind and there was a considerable amount of insanitary rubbish strewn around.
Sale House Clearance Requirements
The client wanted us to give the property a complete clearance & clean and secure it from further incursions by squatters. In this case, there was nothing of value in the property and nothing to recycle. The old furniture was wrecked and filthy, and paper and cardboard debris was too wet and soiled for recycling. It took four of our staff three days to clear the property. Then we arranged for new locks to be fitted on doors and windows, and the fitting of a reinforced steel door.
Disposal of Contents
The old furniture and a variety of un-serviceable white goods were all transported to the local recycling centre in Sale and disposed of properly. We did find a black rubbish bag full of purses and wallets, suggesting that at least some of the squatters had been pickpockets. This suspicion was strengthened by the presence of a variety of drugs paraphernalia. A quick examination of the wallets and purses showed that, although money and credit cards were missing, there was still a range of personal effects such as family photographs, library cards and work ID cards. We handed the whole bag into to the local police station.
Client Comments
The property developers had not used our property clearance services before, but after they'd checked our work, especially the quality of the new security, they told us that they would be more than happy to use us again and to recommend us to other companies. Although the police were obviously not our clients, they too were very happy with our work! They were able to reunite some of the wallets and purses with their owners.
Similar Posts: