How Does Northern House Clearance Services Work?
The first step is to CALL US ON 07966 311 536 for prices/quote.
We will ask you a few simple questions in order to understand your situation.
We usually just require 24 hours notice. We like to turn up at 9am on the day of our appointment and stay until the house clearance is complete.
Once we have removed all of the furniture, junk & rubbish from the house we will issue you with an invoice for your records.
We ALWAYS keep household items to one side which we know can be either re-used or donated free to charity.
Did you know!

We can pick keys up and don't require you to present during the house clearance process if you are unable to be there due to other commitments.
We know a lot of our customers travel a long way or take time of work to oversee everything. We always turn up on the day of our appointment & have never let a customer down yet!
House clearances can be potentially stressful & troublesome if you use cowboy companies – Please look at our many House Clearance Recommendations below…
A Full List Of Our House Clearance Services | Our House Clearance FAQs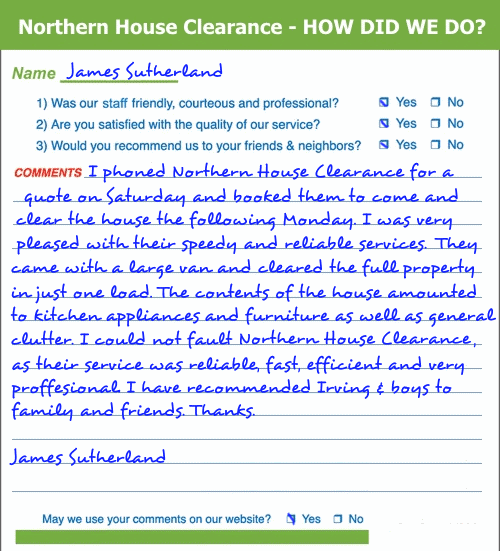 I phoned Northern House Clearance for a quote on Saturday and booked them to come and clear the house the following Monday. I was very pleased with their speedy and reliable services.came with a large van and cleared the full property They in just one load. The contents of the house amounted to kitchen appliances and furniture as well as general clutter. I could not fault Northern House Clearance, as their service was reliable, fast, efficient and very professional. I have recommended Irving & boys to family and friends. Thanks
James Sutherland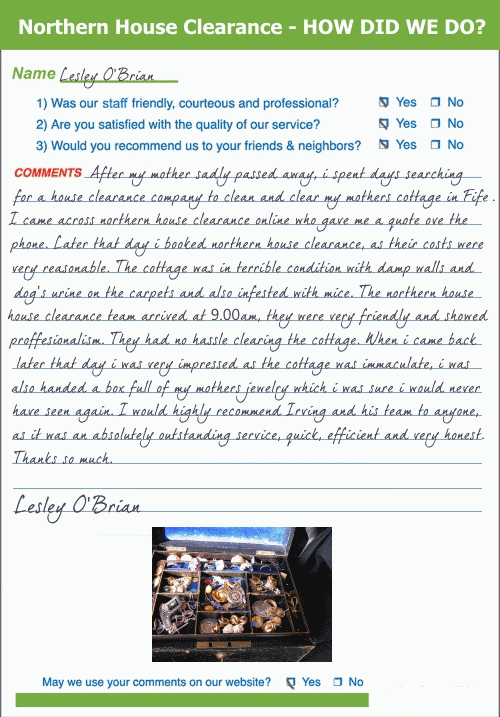 After my mother sadly passed away, I spent days searching for a House clearance company to clean and clear my mothers Cottage in Fife. I came across Northern House Clearance online who gave me a quote over the phone. Later that day I booked Northern house clearance, as their costs were very reasonable. The cottage was in terrible condition with damp walls and dog's urine on the carpets and also infested with mice. The Northern House Clearance team arrived at 9:00am, were very professional and friendly. They had no hassle clearing and cleaning the cottage. When I came back later that day I was very impressed as the cottage was immaculate, I was also handed a box full of my mother's jewelry, which I was sure I would never have seen again. I would highly recommend Irving & his team to anyone, as it was an absolutely outstanding service, quick, efficient and very honest. Thanks so much.
Lesley O'Brien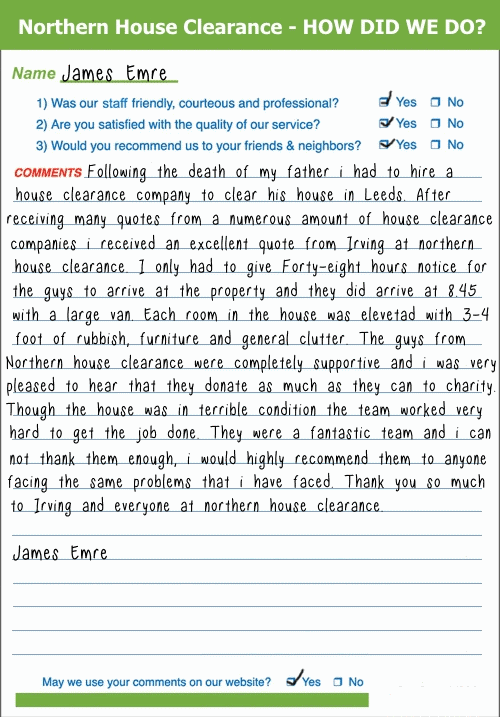 Following the death of my father I had to hire a house clearance company to clear his house in Leeds. After receiving many quotes from a numerous house clearance companies I received an excellent quote from Irving at Northern House Clearance. I only had to give forty-eight hours notice for the guys to arrive at the property and they did arrive at 8:45 with a large van. Each room in the house was elevated with3-4 foot of rubbish, furniture and general clutter. The guys from Northern House Clearance were completely supportive and I was very pleased to hear that they donate as much as they can to charity. Though the house was in terrible condition the team worked very hard to get the job done. They were a fantastic team and I cannot thank them enough, I would highly recommend them to anyone facing the same problems that I have faced. Thank you so much to Irving & everyone at Northern House Clearance.
James Emre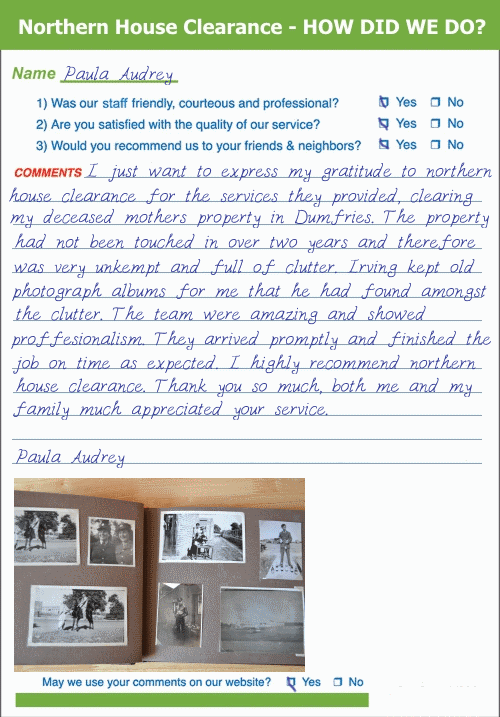 I just want to express my gratitude to Northern House Clearance for the services they provided, clearing my deceased mothers property in Dumfries. The property had not been touched in over two years and therefore was very unkempt and full of clutter. Irving kept old photograph albums for me that he had found amongst the clutter. The team were amazing and showed professionalism, they arrived promptly and finished the job on time as expected. I highly recommend Northern House Clearance. Thank you so much both me and my family much appreciated your service.
Paula Audrey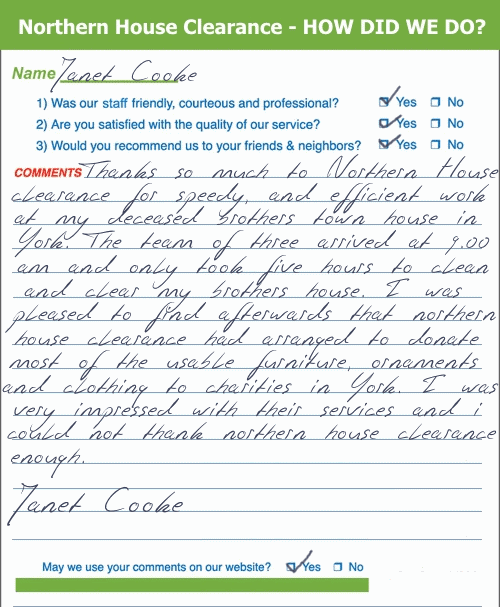 Thanks so much to Northern House Clearance for speedy and efficient work at my deceased brothers town house in York. The team of three arrived at 9:00 am and only took five hours to clean and clear my brother's house. I was pleased to find afterwards that Northern House Clearance had arranged to donate most of the usable furniture, ornaments and clothing to charities in York. I was very impressed with the services and I could not thank Northern House clearance enough.
Janet Cooke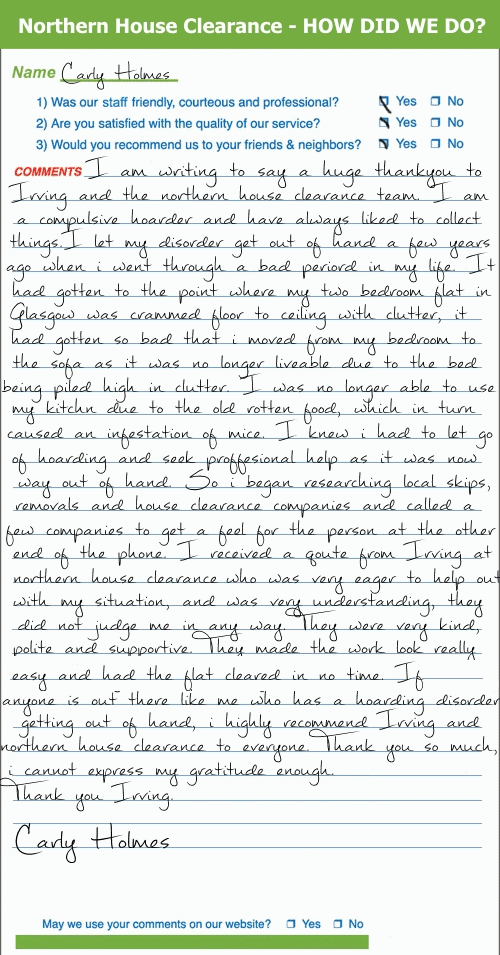 I am writing to say a huge thank you to Irving & the Northern House Clearance team. I am a compulsive hoarder and have always liked to collect things. I let my hoarding disorder get out of hand a few years ago when I went through a bad period in my life. It had gotten to the point where my two bed roomed flat in Glasgow was crammed floor to ceiling with clutter. It had gotten so bad that I moved from my bedroom to the sofa, as it was no longer livable due to the bed being piled high with clutter. I was no longer able to use my kitchen due to all the old rotten food, which in turn caused an infestation of mice. I knew I had to let go of hoarding and seek professional help as it was now way out of hand. So I began researching local skips, removals and house clearance companies and e-mailed a few companies to get a feel for the person at the end of the phone. I received a quote from Irving at Northern House Clearance who was very eager to help with my situation and was very understanding; they did not judge me in any way. They were very kind, polite and supportive. They made the work look really easy and had the flat cleared in no time. If anyone is out there like me who has a hoarding disorder getting out of hand, I highly recommend Irving & Northern House Clearance to everyone. Thank you so much, I cannot express my gratitude enough. Thank you Irving. Carly Holmes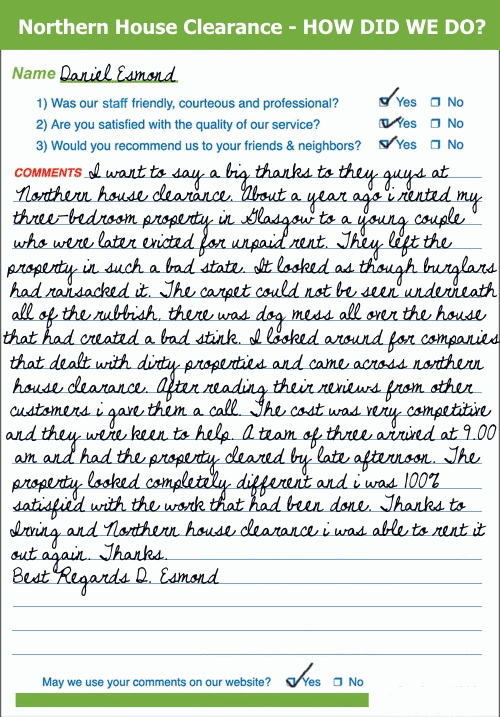 I want to say a big thanks to the guys at Northern House Clearance. About a year ago I rented my three-bedroom property In Glasgow to a young couple who were later evicted for unpaid rent. They had left the property in such a bad state. It looked as though burglars had ransacked it. The carpet could not be seen underneath all of the rubbish, there was dog mess all over the house that had created a bad stink. I looked around for companies that dealt with dirty properties and came across Northern House Clearance. After reading their reviews from other customers I gave them a call. The cost was very competitive and they were keen to help. A team of three arrived at 9:00 am and had the property cleared by late afternoon. The property looked completely different and I was 100% satisfied with the work that had been done. Thanks to Irving & Northern House Clearance I was able to rent it out again. Thanks Best regards D. Esmond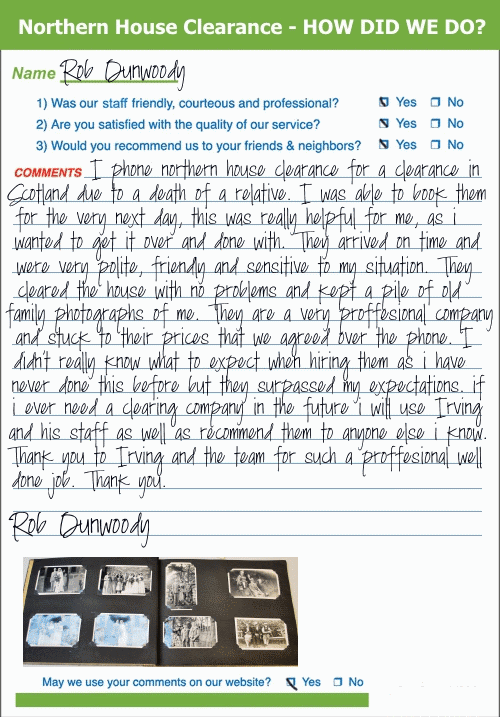 I phoned Northern House Clearance for a clearance in Scotland due to a death of a relative. I was able to book them for the very next day; this was really helpful for me, as I wanted to get it over and done with. They arrived on time and were very polite, friendly and sensitive to my situation. They cleared the house with no problems and kept a pile of old family photographs for me. They are a very professional company and stuck to their prices that we agreed over the phone. I didn't really know what to expect when hiring them as I have never done this before but they surpassed my expectations. If I ever need a clearing company in the future I will use Irving & his staff as well as recommend them to anyone else I know. Thank you to Irving and the team for such a professional well done job. Thank you Rob Dunwoody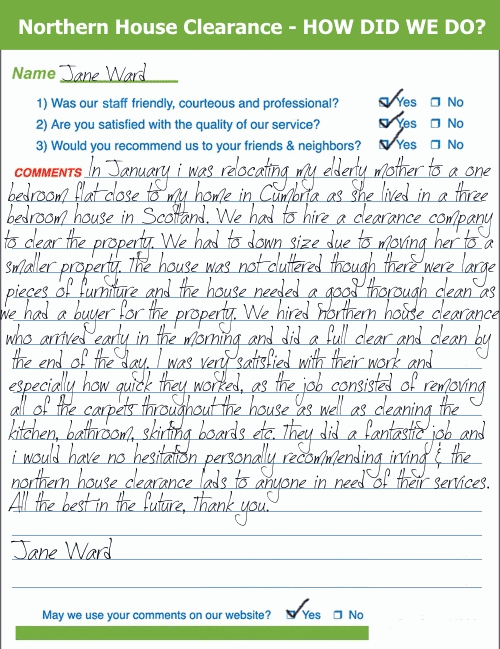 In January I was relocating my elderly mother to a one bedroom flat closer to my home in Cumbria as she lived in a three-bedroom house in Scotland. We had to hire a clearance company to clear the property. We had to down size due to moving her to a smaller property. The house was not cluttered though there were large pieces of furniture and the houses needed a good thorough clean as we had a buyer for the property. We hired Northern House Clearance who arrived early in the morning and did a full clear and clean by the end of the day. I was very satisfied with their work and especially how quick they worked, as the job consisted of removing all of the carpets throughout the house as well as cleaning the kitchen, bathroom, skirting boards etc. They did a fantastic job and I would have no hesitation personally recommending Irving & the Northern House Clearance lads to anyone in need of their services. All the best in the future, Thank you. Jane Ward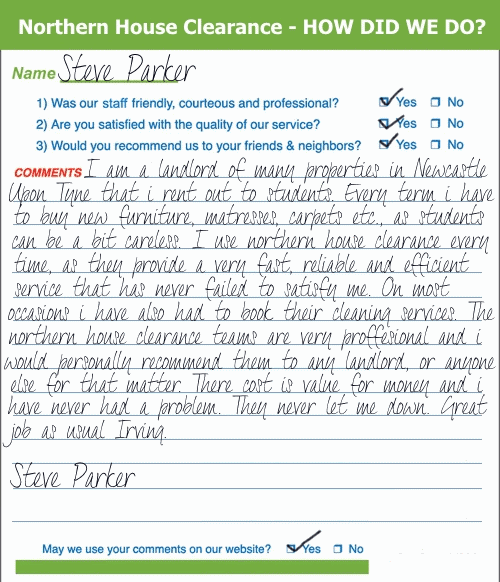 I am a landlord of many properties in Newcastle upon Tyne that I rent out to students. Every term I have to buy new furniture, mattresses, carpets etc., as students can be a bit careless. I use Northern House Clearance every time, as they provide a very fast, reliable and efficient service that has never failed to satisfy me. On most occasions I have also had to book their cleaning services. The Northern House Clearance teams are a very professional and I would personally recommend them to any landlord, or anyone else for that matter. There cost is value for money and I have never had a problem. They have never let me down. Great job as usual Irving.
Steve Parker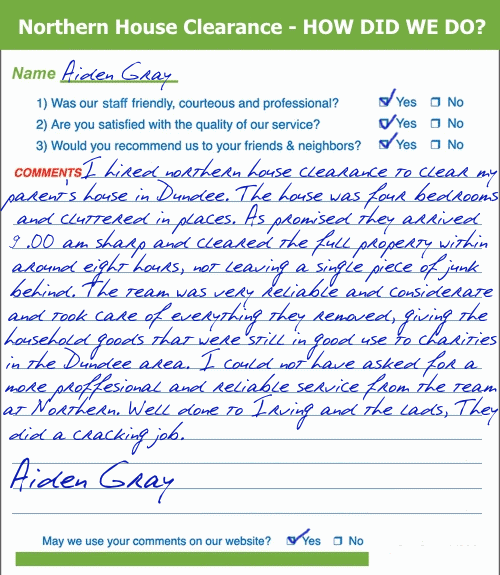 I hired Northern House Clearance to clear my parent's house in Dundee. The house was four bedrooms and cluttered in places. As promised they arrived 9:00 am sharp and cleared the full property within around eight hours, not leaving a single piece of junk behind. The team was very reliable and considerate and took care of everything they removed, giving the household goods that were still in good use to charities in the Dundee area. I could not have asked for a more professional and reliable service from the team at Northern. Well done to Irving & the lads, they did a cracking job.
Aiden Gray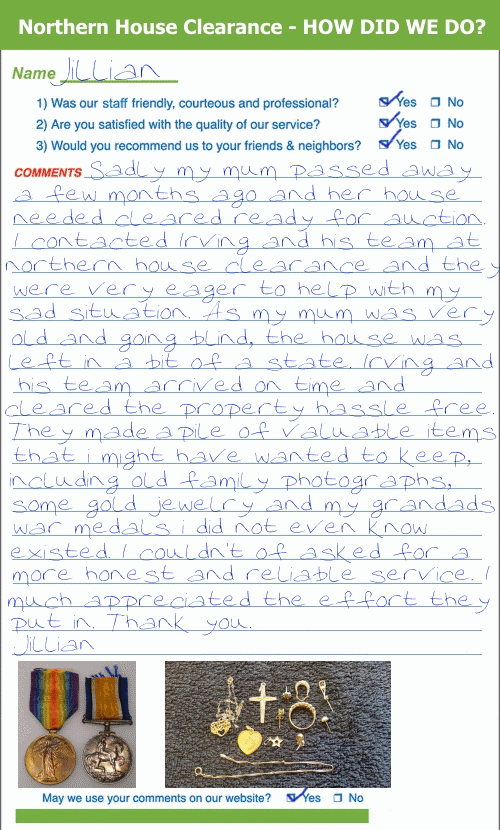 Sadly my mum passed away a few months ago and her house needed cleared ready for auction. I contacted Irving and his team at Northern House clearance and they were very eager to help with my sad situation. As my mum was very old and going blind, the house was left in bit of state. Irving and his team arrived on time and cleared the property hassle free. They made a pile of valuable items that I might have wanted to keep, including old family photographs, some gold jewelry and my granddads war medals I did not even know existed. I couldn't of asked for a more honest and reliable service. I much appreciate the effort that they put in, making my very sad experience more positive. Jillian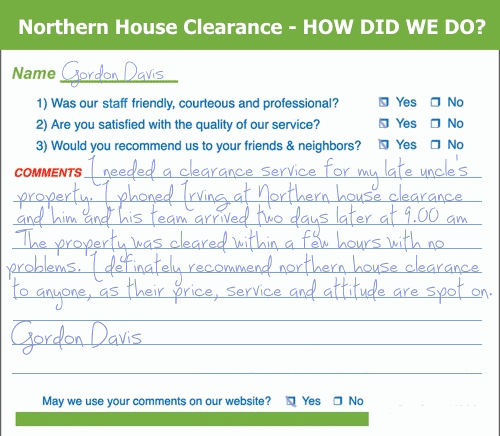 I needed a clearance service for my late uncles property. I phoned Irving at Northern House clearance and him and his team arrived two days later at 9:00am. The property was cleared within a few hours with no problems. I definitely recommend Northern House Clearance to anyone, as their price, service & attitude are spot on.
Gordon Davis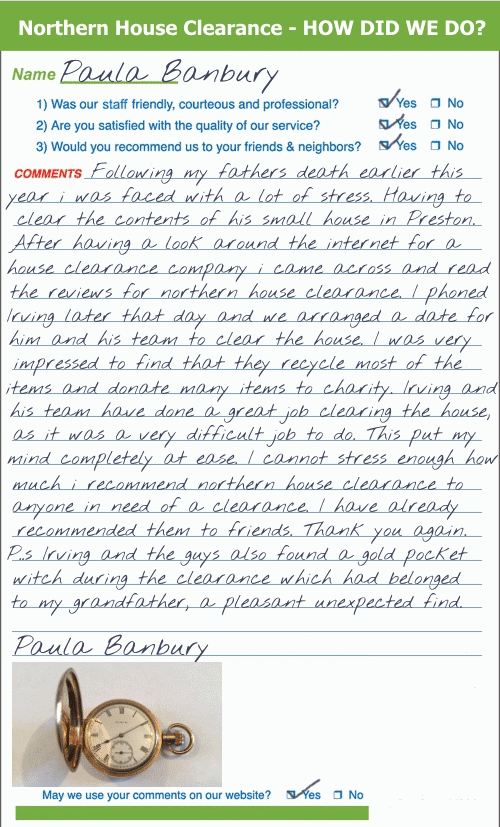 Following my father's death earlier this year I was faced with a lot of stress. Having to clear the contents of his small house in Preston. After having a look around the Internet for a house clearance company I came across & read the reviews for Northern House Clearance. I phoned Irving later that day and we arranged a date for him and his team to clear the house. I was very impressed to find that they recycle most of the items and donate many items to charity. Irving and his team have done a great job clearing the house, as it was a very difficult job to do. This put my mind completely at ease. I cannot stress enough how much I recommend Northern House Clearance to anyone in need of a clearance. I have already recommended them to friends. Thank-you again.
p.s. Irving and the guys also found a gold pocket watch during the clearance which had belonged to my grandfather, a pleasant unexpected find. Paula Banbury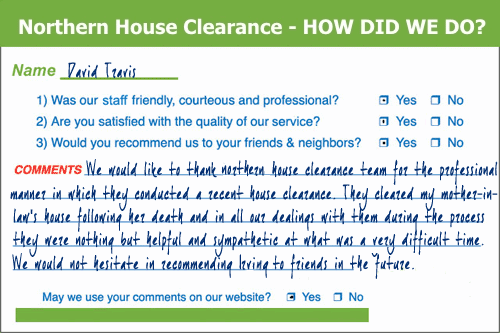 We would like to thank northern house clearance team for the professional manner in which they conducted a recent house clearance. They cleared my mother-in-law's house following her death and in all our dealings with them during the process they were nothing but helpful and sympathetic at what was a very difficult time. We would not hesitate in recommending Irving to friends in the future. (David Travis) House Clearance Edinburgh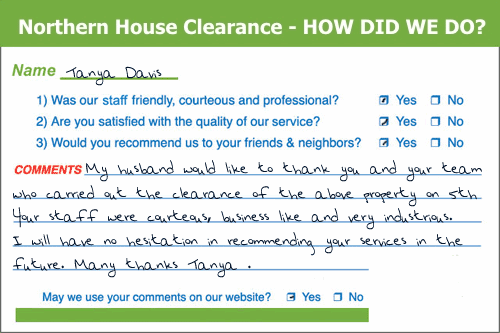 My husband would like to thank you and your team who carried out the clearance of the above property on 5th. Your staff were courteous, business like and very industrious. I will have no hesitation in recommending your services in the future. Many thanks Tanya. (Tanya Davis) House Clearance Aberdeen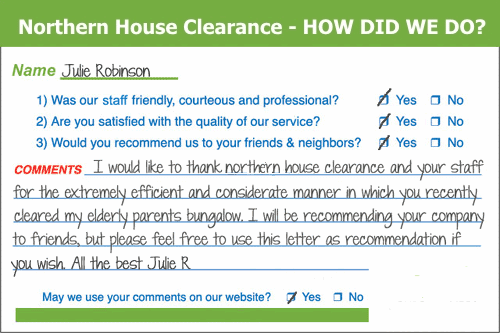 I would like to thank Northern House Clearance and your staff for the extremely efficient and considerate manner in which you recently cleared my elderly parents bungalow. I will be recommending your company to friends, but please feel free to use this letter as recommendation if you wish. All the best. (Julie Robinson) House Clearance Dundee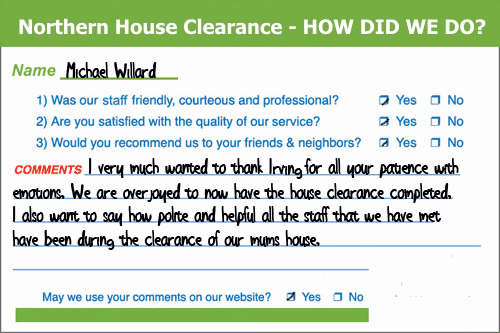 I very much wanted to thank Irving for all your patience with my emotions. We are overjoyed to now have the house clearance completed. I also want to say how polite and helpful all the staff that we have met have been during the clearance of our mums house. (Michael Willard) House Clearance Inverness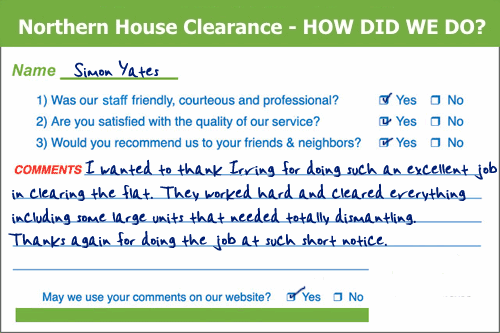 I wanted to thank Irving for doing such an excellent job in clearing the flat. They worked hard and cleared everything including some large units that needed totally dismantling. Thanks again for doing the job at such short notice. (Simon Yates) House Clearance Glasgow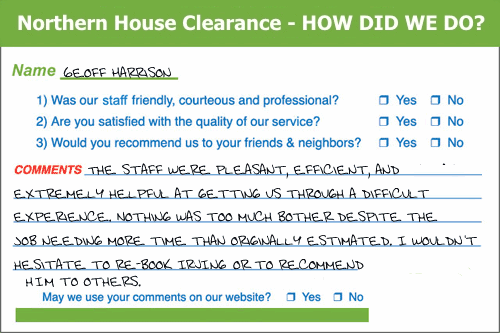 The staff were pleasant, efficient, and extremely helpful at getting us through a difficult experience. Nothing was too much bother despite the job needing more time than originally estimated. I wouldn't hesitate to re-book Irving or to recommend him to others. (Geoff Harrison) House Clearance Edinburgh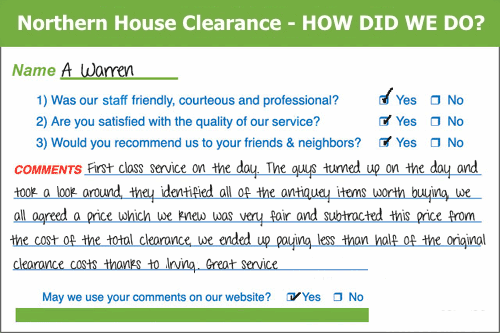 First class service on the day. The guys turned up on the day and took a look around, they identified all of the antiquey items worth buying, we then all agreed a price which we knew was very fair and subtracted this price from the cost of the total clearance, we ended up paying less than half of the original clearance costs thanks to Irving. Great service (A Warren) House Clearance Newcastle Upon Tyne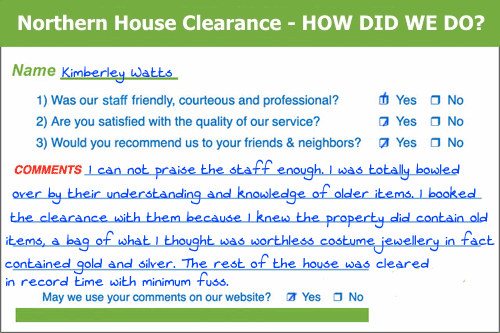 I can not praise the staff enough. I was totally bowled over by their understanding and knowledge of older items. I booked the clearance with them because I knew the property did contain old items, a bag of what I thought was worthless costume jewellery in fact contained several gold and silver pieces, hats off to Ist Call for pointing this out. Their staff also found other items including vintage clothing again I thought worthless. Please let me thank you especially Dan for just being there. (Kimberley Watts) House Clearance Perth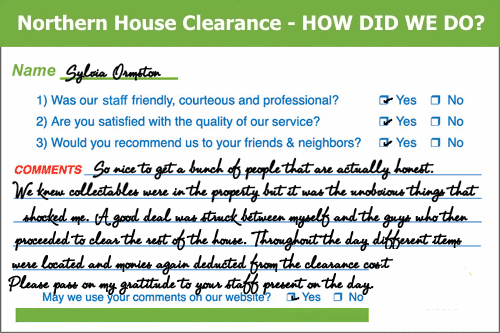 So nice to get a bunch of people that are actually honest. We knew collectibles were in the property but it was the un obvious things that shocked me. A good deal was struck between myself and the guys who then proceeded to clear the rest of the house. Throughout the day different items were located and monies again deducted from the clearance cost. Please pass on my gratitude to your staff present on the day. (Sylvia Ormston) House Clearance Edinburgh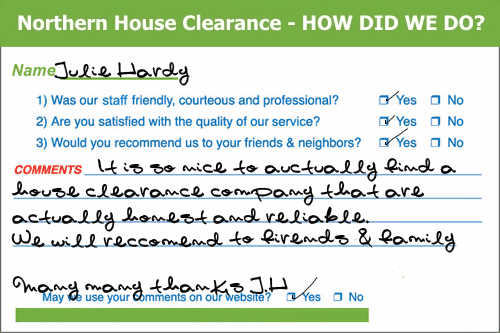 It is so nice to actually find a house clearance company that are actually honest and reliable. We will recommend to friends & family. Many many thanks J.H. (Julie Hardy) House Clearance Glasgow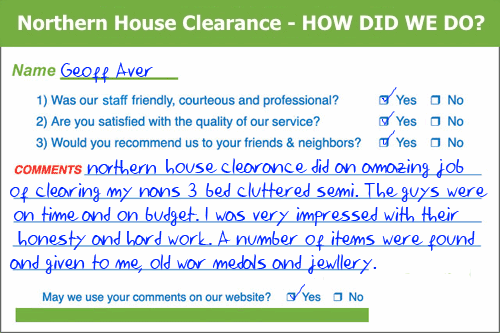 Northern house clearance did an amazing job of clearing my nans 3 bed cluttered semi. The guys were on time and on budget. I was very impressed with their honesty and hard work. A number of items were found and given to me, old war medals and jewelry. (Geoff Aver) House Clearance Teesside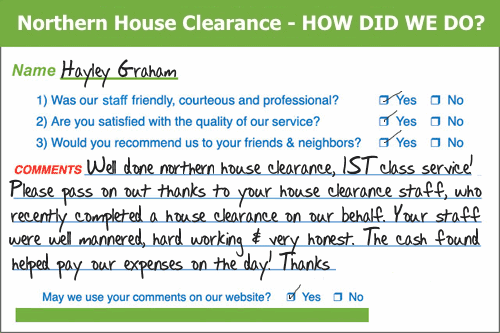 Well done northern house clearance, 1ST class service! Please pass on our thanks to your house clearance staff, who recently completed a house clearance on our behalf. Your staff were well mannered, hard working & very honest. The cash found helped pay our expenses on the day. Thanks. (Hayley Graham) House Clearance Northumberland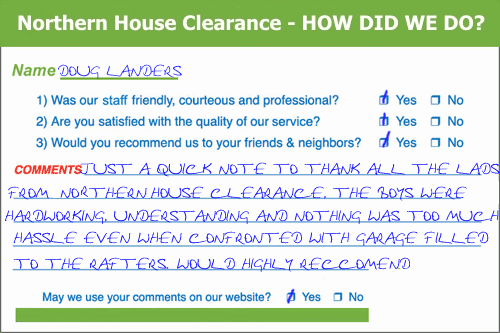 Just a quick note to thank all the lads from Northern house clearance. The boys were hardworking, understanding and nothing was too much hassle even when confronted with a garage filled to the rafters. Would highly recommend. (Doug Landers) House Clearance Stirling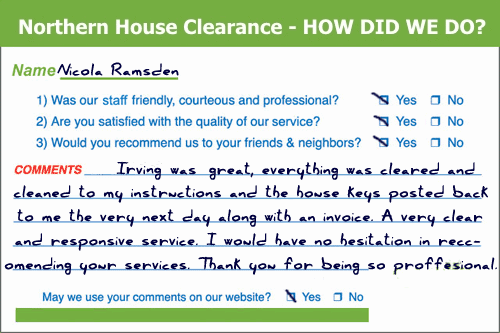 Irving was great, everything was cleared and cleaned to my instructions and the house keys posted back to me the very next day along with an invoice. A very clear and responsive service. I would have no hesitation in recommending your services. Thank you for being so professional. (Nicola Ramsden) House Clearance Glasgow