House Clearance Specialists
The first step is to CALL US ON 07966 311 536 for prices/quote.
We will ask you a few simple questions in order to understand your situation.
We usually just require 24 hours notice. We like to turn up at 9am on the day of our appointment and stay until the house clearance is complete.
Once we have removed all of the furniture, junk & rubbish from the house we will issue you with an invoice for your records.
We ALWAYS keep household items to one side which we know can be either re-used or donated free to charity.
Did you know!
We can pick keys up and don't require you to be present during the house clearance process if you are unable to be there due to other commitments.
We know a lot of our customers travel a long way or take time of work to oversee everything. We always turn up on the day of our appointment & have never let a customer down yet!
We are members of AFTA – Anti Fly Tipping Association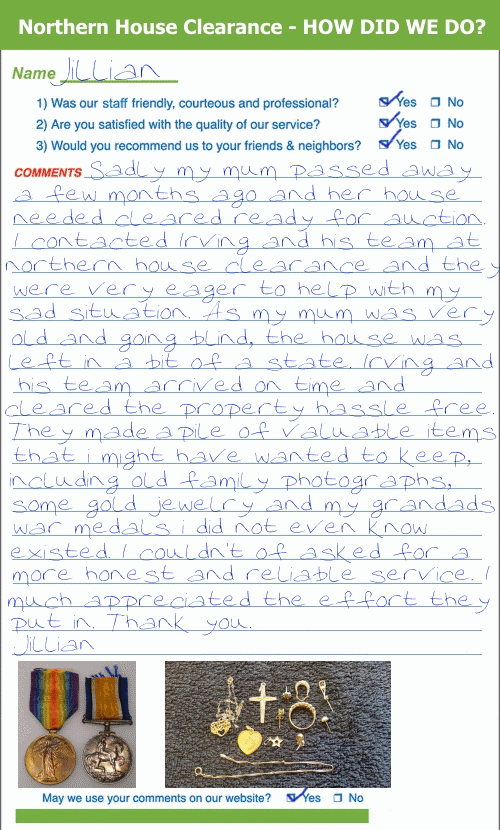 Sadly my mum passed away a few months ago and her house needed cleared ready for auction. I contacted Irving and his team at Northern House clearance and they were very eager to help with my sad situation. As my mum was very old and going blind, the house was left in bit of state. Irving and his team arrived on time and cleared the property hassle free. They made a pile of valuable items that I might have wanted to keep, including old family photographs, some gold jewelry and my granddads war medals I did not even know existed. I couldn't of asked for a more honest and reliable service. I much appreciate the effort that they put in, making my very sad experience more positive. Jillian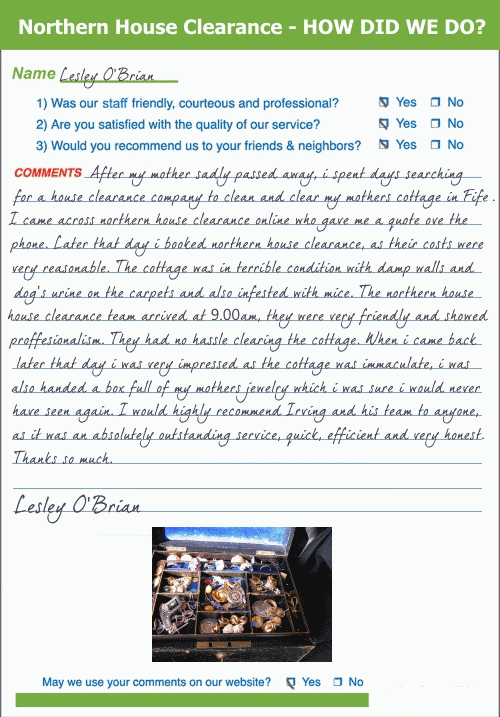 After my mother sadly passed away, I spent days searching for a House clearance company to clean and clear my mothers Cottage in Fife. I came across Northern House Clearance online who gave me a quote over the phone. Later that day I booked Northern house clearance, as their costs were very reasonable. The cottage was in terrible condition with damp walls and dog's urine on the carpets and also infested with mice. The Northern House Clearance team arrived at 9:00am, were very professional and friendly. They had no hassle clearing and cleaning the cottage. When I came back later that day I was very impressed as the cottage was immaculate, I was also handed a box full of my mother's jewelry, which I was sure I would never have seen again. I would highly recommend Irving & his team to anyone, as it was an absolutely outstanding service, quick, efficient and very honest. Thanks so much.
Lesley O'Brien