We undertake house clearance in all areas of Dinnington: Callaly Cambois Capheaton Carham Catcleugh Catton Chatton Chesters Cheswick.
A Full List Of Our Dinnington House Clearing Services
House clearances can be potentially stressful & troublesome if you use cowboy companies – Please look at our many House Clearance Recommendations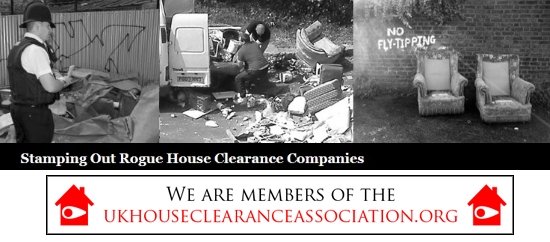 House Clearance In Dinnington Case Example: Client instructions
As is quite often the case, our client on this occasion was a solicitor from the Dinnington area acting on behalf of the executor of a will, a man whose elderly mother had recently died. She had been living in the family home of many years when she passed away, and her surviving family were now selling up, with the proceeds to be divided between the beneficiaries of her will. The house was a detached three-bedroomed property on the outskirts of Dinnington.
Dinnington House Clearance Requirements
The house was generally in good order and the solicitor instructed us to remove the remaining furnishings. The family had removed the old lady's personal effects but there was still a considerable amount of furniture and some kitchen equipment in the house. We were to remove these items, checking that nothing of value had been left behind.  We were to leave the house clean, drain the central heating system, isolate the electrics and turn off the water supply.
Disposal of Contents
We arrived on site at 7.15 a.m., and immediately started work with a crew of four. We removed beds, chairs, cupboards, wall units, bookshelves, books, chests of drawers, tables, a lounge suite, and other assorted furniture. Tucked at the back of one chest of drawers we found a photograph album, containing what were obviously family photos. We handed these over to the solicitor.
We disconnected the washing machine, drained the central heating and closed the main stopcock to prevent leaks. A Gas Safe engineer disconnected the cooker and made the gas supply safe we switched the electricity supply off at the main fuse box. We took meter readings for the gas and electric supplies which we passed on to the client.
The furniture was in fair to good condition, and we arranged for a local charity to take it to sell it in one of their High Street shops in Dinnington. We were able to recycle 90% of the paper and other goods, and only a tiny proportion of the contents went to the local authority waste disposal site.
The job was finished by 5.30 p.m.
Dinnington Client Comments
The solicitor was more than satisfied with our work, and was particularly pleased at how fast we operated, which obviously kept the final bill down. A week later he emailed us, "First I wanted to let you know how pleased I was with the quality of your work. I also wanted to tell you that the family were delighted to have the photo album which contained holiday photographs of great sentimental value. They asked me to thank you for your diligence in spotting it."
Similar Posts: