We undertake house clearance in all areas of Halifax: Halifax Keithley Ikley Wetherby Bradford Leeds Batley Castleford Pontefract Wakefield Holmfirth Brighouse.
A Full List Of Our Halifax House Clearing Services
House clearances can be potentially stressful & troublesome if you use cowboy companies – Please look at our many House Clearance Recommendations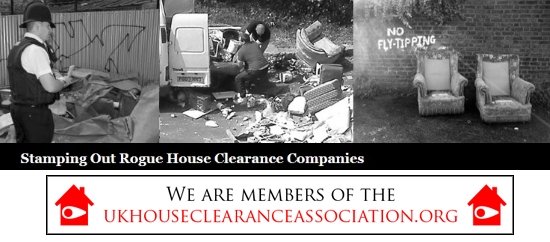 House Clearance In Halifax Case Example: Client instructions
Our client in this case was a solicitor from a well-respected local firm in the Halifax area. He asked us to clear the residual contents from a four-bedroomed, detached house in the suburbs. The elderly lady who had been living there had recently died, and, acting as executor, the solicitor had obtained probate and had distributed the house contents and the lady's personal effects in accordance with her will. We had done the initial probate valuation, and had identified several items of antique furniture and jewellery that had considerable value. We had then arranged for these items to be sold at auction. The remainder of the contents was mainly modern furniture, and assorted items of minimal value.
Halifax Clearance Requirements
The property was due to be sold, and we were tasked with clearing out the remaining furniture and effects. We were also to clean the house thoroughly and leave it neat and tidy, ready for viewings by prospective buyers.
We arrived on site at 5 a.m., not an unusually early start for us since we're often up with the larks to avoid traffic. Parking in the area was residents only, but we had obtained a temporary permit. We removed chests of drawers, sofas, cupboards, beds and other general furnishings.
We disconnected and removed the washing machine and checked that there were no leaks, and switched off the central heating and drained down the system to prevent damage. After a thorough clean, the property was ready and we handed the keys over at 3 p.m.
Halifax Disposal of Contents
The remaining furniture was in good condition but of little value, so with the solicitor's approval, we donated some of it to local charity shops in Halifax, and the rest to a charity that provides furniture to people on low incomes. We are always happy to find a new home for furniture that still has some life in it.
Halifax Client Comments
The solicitor inspected the property and was very pleased with the job. So pleased in fact, that we now have an ongoing relationship with the firm and are their preferred provider of clearance services.
Similar Posts: