We undertake house clearance in all areas of Jarrow: Bede Boldon Colliery Cleadon East Boldon Fellgate Hedworth Hebburn North Hebburn.
A Full List Of Our Jarrow House Clearing Services
House clearances can be potentially stressful & troublesome if you use cowboy companies – Please look at our many House Clearance Recommendations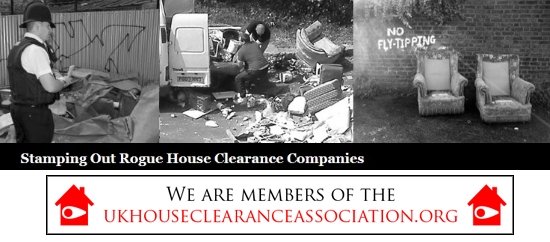 House Clearance In Jarrow Case Example: Client instructions
The owner of a four-bedroomed, semi-detached suburban house in Jarrow asked us to clear everything from the property so that he could move into it himself with his young family. The house had belonged to his mother who had passed away, leaving it to him in her will. He had already been through the property and removed anything that he wanted to keep, and he was very keen that the rest of the items be sent to a charity in Jarrow or used again in some way. He told us that his mother had been a keen charity worker and environmentalist, so this was what she would have wanted.
He also asked us to clean the house after the clearance.
Jarrow House Clearance Overview
We began the clearance in the living room where we removed shelves, books, and an old but still working TV, various ornaments, a three-piece suite and some paintings on the wall. On closer inspection, one of the ornaments was identified as a potentially high value 'tabatière' a French-made snuff box from the 18th century. It seemed that this had been missed by the owner so we called him immediately to tell him what we'd found.
We then cleared the kitchen, removing all of the white goods including the electric cooker, as well as the crockery and utensils from the cabinets.
Next, we moved upstairs and cleared everything from the bedrooms and bathroom, and once the entire property had been cleared, we cleaned it throughout to leave it in excellent condition.
Jarrow Disposal of Contents
We donated all of the items that were in a suitable condition to three charities in the Jarrow area, which were all very grateful to receive the furniture and other items that they could sell to raise funds. There were a few things that we had to recycle, but there were also some items that we agreed to resell to offset the cost of the clearance, including some paintings from the living room. As always, we removed everything from the property in our unmarked vans for the privacy of our client.
Jarrow Client Comments
Our client was very impressed by our professional attitude throughout the clearance. He was especially grateful that we'd spotted the snuff box which realised a very good price at auction. To respect his mother's memory, he donated the money to her favourite international development charity.
Similar Posts: