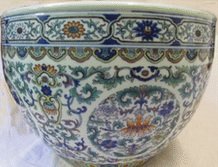 An antique porcelain bowl found during a house clearance on the Isle of Man has sold for over half a million pounds, despite the opening offer being only £10,000.
The decorated porcelain jardiniere attracted bidders from all over the world, with London's three-biggest Chinese art dealers flying to the island for the auction, and telephone bidders calling from as far afield as Hong Kong.
The bowl, a Qianlong planter with Doucai decoration, was found in the attic of a deceased estate as part of a house clearance. It was listed for sale by Murray's Auctioneers in Douglas on the Isle of Man, where it generated huge interest.
The estimated price before the auction was between £40,000 and £60,000, although the bidding quickly rose to £300,000 – before a London-based art dealer offered half a million from the floor.
He was outbid by a dealer on the phone from Hong Kong, who put in what was to become the winning bid of £520,000.
A round of applause went up around the auction house when the hammer came down, and auctioneer Murray Keefe told BBC News that the final price was "staggering."
This case is just one of many that has had people up and down the country rummaging around their attics in the hope of finding an antique treasure.
Similar Posts: