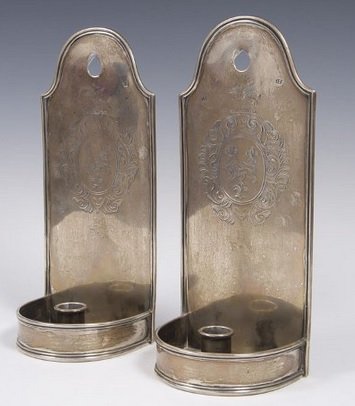 Antique House Clearance – We buy antiques in Northern England & Scotland
A pair of silver candle holders fetched £74,000 at auction after they were nearly discarded as common wall fittings, the East Anglian Daily Times reported.
The precious metal sconces were discovered during the house clearance of a country home in Stratford St Mary, Suffolk.
After examining the find, an auctioneer – James Grinter – quickly identified the rare holders, thanks to their engraved coat of arms, which was believed to be that of an Attorney General during Charles II's reign.
An initial valuation of the items came in at £6,000-£8,000 each; however telephone bidders soon smashed this by more than ten times.
Auction leader, Jonathan Benson, explained what the atmosphere was like in the room; claiming: "As the bids kept going up, the room became quieter and quieter with everyone waiting to see what was going to happen, and then by the end everyone was applauding."
"The owner was listening to the sale live online and as you can imagine she was absolutely thrilled."
According to the Antiques Trade Gazette, the winning bidder paid a total of £89,540, including commission, and is believed to be from London.
Grinter said that this sale was unusual, as the precious holders nearly passed him by: "It was quite unusual in this case because the house was being let and they would have remained where they were for the incoming tenants to use."
"We hoped to get around £15,000 but as the bidding kept going up it started to feel like it would just keep going on and on," he added.
Similar Posts: