We undertake house clearance in all areas of Bedlington: Backworth Bamburgh Bardon Mill Tynedale Barrasford.
A Full List Of Our Bedlington House Clearing Services
House clearances can be potentially stressful & troublesome if you use cowboy companies – Please look at our many House Clearance Recommendations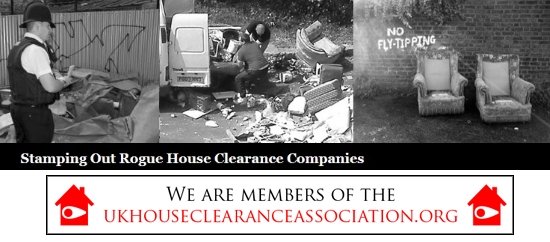 House Clearance In Bedlington Case Example: Client instructions
Our client for this house clearance was a firm of solicitors acting for the owner of the property, a terraced house with three bedrooms on a quiet residential street in Bedlington. The owner had recently inherited the house, which had been let out to tenants as a furnished property for over a decade.
The owner now wanted to sell the property, so we were asked to remove all of the furniture that remained, along with the white goods from the kitchen. After we'd cleared the property, the new owner was going to decorate, before selling.
The house had a forty-foot garden which had become overgrown, so we were asked to mow the lawn and cut back trees and shrubbery so that it looked presentable.
Bedlington House Clearance Overview
When we arrived there was on-street parking available, but there were some roadworks being carried out just outside the property so we had to park slightly further down the road.
The doorway was very small, so to minimise the risk of damage we lined the doorway and the entrance with plywood panels. We then split into two teams, with one working in the house and the other on the garden.
The house was in reasonable condition, but the furniture had certainly seen better days and the decor definitely needed refreshing. We moved all the furniture, and then took up the carpets and removed the carpets as instructed. We finished in the house by giving it a light clean, ready for the decorators.
Meanwhile the other two-man team kept busy chopping back trees and pruning hedges down to size in the garden. They weeded the footpaths and completed the job by mowing the lawn.
By 4 p.m., a couple of hours earlier than scheduled, the job was done and dusted.
Disposal of Contents
We took the green waste from the garden to the council's local waste facility which includes a composting unit. The furniture had little potential for secondhand sale, although it was still perfectly serviceable so we donated some of it to a charity shop in Bedlington and the remainder to a local women's refuge. We gave the white goods to a hostel for homeless people.
Bedlington Client Comments
A representative from the firm of solicitors inspected the property at the end of the day and was surprised and pleased at how quickly and efficiently we'd emptied and cleaned the house, and tidied the garden. We are now on the solicitor's list of approved house clearance contractors and we've done two more jobs for them.
Similar Posts: