We undertake house clearance in all areas of Carlisle: Botchergate Carleton Kingstown Lowry Hill Moorville Stanwix Edentown Etterby St Anns Hill Belah Newtown Morton Sandsfield Park Longsowerby Raffles Durranhill.
A Full List Of Our Carlisle House Clearing Services
House clearances can be potentially stressful & troublesome if you use cowboy companies – Please look at our many House Clearance Recommendations
House Clearance In Carlisle Case Example: Client Instructions
Our Carlisle house clearance staff were recently appointed to clear a large four bedroom house and out buildings in the Edentown area of Carlisle.
The customer wanted the house cleared asap as she had traveled up from London as the house was due to go up for sale the following day.
The customer asked us to look for family photographs and legal paper work, there was also mention of some world war 2 medals that she could not find.
Our house clearance staff turned up at 9am and started the clearance from the top down. The first bedroom was filled older style furniture and a cast iron framed double bed, all the furniture was filled with clothing and general clutter. The carpets and underlay from all rooms also needed up lifted.
The second bedroom was filled with box after box of old books and Christmas decorations as well as general junk. This room also contained a broken piano which our clearance staff dismantled and removed.
All the upstairs rooms including the loft were cleared within 3 hours from start to finish. Over 2 tons of unsaleable waste was taken to the recycling centre in Carlisle.
From the downstairs of the house our Carlisle clearance staff cleared a 1930s leather sofa and arm chairs as well as two large 1970s teak wall units and other pieces of unusable older furniture
Our Carlisle house clearance staff managed to locate a group of three world war 2 medals, two 9ct gold rings, a large collection of family photographs and paperwork, the customer was over joyed.
From the kitchen our house clearance team disconnected and removed both a gas cooker and a washing machine as well as clearing all the kitchen cupboards of rubbish, rotting food, junk and pans.
Our staff also emptied a double garage and shed filled with gardening tools, rusty mechanics tools, lengths of wood and the usual garage clutter and junk.
All in all 4 tons of waste was taken to the recycling centre in Carlisle. The full house and out buildings were cleared in 5 hours with two van loads required to complete the clearance.
The customer was very impressed with our Carlisle house clearance staff and wrote the following:
The staff that turned up to complete the house clearance were very courteous and helpful. On clearance day, there were 3 men who arrived at 9.00am and cleared the entire house within several hours, the guys even managed to find some sentimental items which I could not locate. I could not fault their work. They caused no damage to the property or paint work when removing the furniture etc. They even took a van full of items to a local charity shop in Carlisle! Would recommend highly to anyone who wants to have a stress free clearance. Thank you all for the wonderful service I had and for all your help.
More house clearance customer comments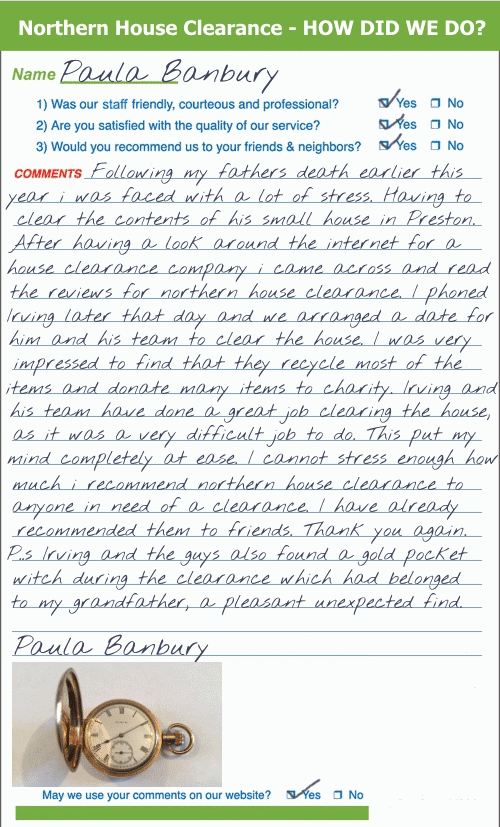 Similar Posts: